Xephos

Xephos the Spaceman

Real Name

Lewis Brindley

Minecraft Name

Xephos

Aliases

The Spaceman
Skylord Xephos

Residence

The Yogcave (formerly)

Occupation

Hero
Skylord
Shiplord

Weapon of Choice

Diamond Sword

Nationality

English

Affiliation

Honeydew
USS Enterprise

Known for

Battling Israphel
"
/give Honeydew 46 1
"
-Xephos, when in a tight pinch with
Honeydew
.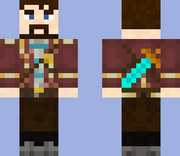 The Story of Xephos
It is unknown how the famed Captain William Riker came to Minecraftia, but it is known at some point he met the dwarf Honeydew, and traveled North. There, they began their awesome adventure. They built themselves a mighty castle within a cave, known as the Yogcave. Soon after, a ghost lord named Israphel attacked the duo, beginning their adventure depicted in the "Shadow of Israphel."
Appearance
Xephos' "skin" is the cunning looks of William Riker, currently Riker is wearing chaps a diamond sword and a vest.