Bazzare Mansion is a truely massive structure that has existed since the dark ages. It is fully owned by Owen Co.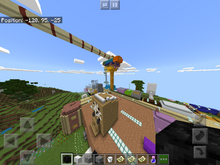 It contains millions of rooms & hallways. It has a Great Lake, a Panda sanctuary, several towers, a beach house, a hedge maze, a gigantic statue of Notch, a lighthouse, an airport, & a fireworks display.
Locations within the mansion
Dungeons
Dungeon Foyer
A room connecting the Rickety dungeon staircase with the dungeon halls.
Tree Roots
A room containing some of the roots of the jungle trees.
Detention room
Where people go for detention. Theirs a secret escape through one of the marble pillars.
Dungeon Desplay
A replica of a real Minecraft dungeon.
TNT Stores
A obsidian room filled with extra TNT.
Basement
Basement entrance
A room that connects the Foyer elevator to the basement study. Filled with barrels.
Basement study
A damp room with a large computer setup & several filing cabinets. Connects to the Basement entrance, the Basement bedroom, and the Basement prison.
Basement Bedroom
Somewhere to sleep where nobody will bother you. Has its own bathroom.
Basement Prison
A locked cage made of iron-laced stone. Connects to the Sealed laboratory.
Sealed laboratory
A secret lab that was once used for human experimentation. Currently locked.
Community content is available under
CC-BY-SA
unless otherwise noted.